1. Matrix AI Network's Mainnet Platform launched.
2. SoftBank and TBCASoft Launch Blockchain Based Identification Solution.
1.Matrix AI Network's Mainnet Platform launched.
Matrix AI Network (MAN), a open-source, intelligent blockchain-based distributed computing platform and OS, with artificial intelligence (AI) and blockchain technology, formally launched its mainnet platform lately.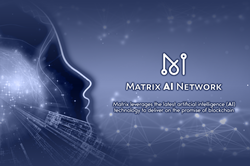 "This release is a significant moment for Matrix AI Network and our community," said Owen Tao, Matrix AI Network's CEO, "we can now connect investors, developers, partners, and the community to innovate exponentially. Making the Matrix AI Network platform available on the mainnet is a clarion call for collaborative development, and a significant advance for practical blockchain and artificial intelligence technology."
We are thrilled to announce the launch of the Matrix #Mainnet!

Welcome to the Matrix AI Network.$MAN #MatrixAINetworkhttps://t.co/PmzTTTAQFn

— Matrix AI Network (@MatrixAINetwork) February 28, 2019
Stricture of The Matrix AI Network
The Matrix AI Network consists of a series of gears and mechanisms, each with a role and all working in concert. Core components include a Mining Network, a Verification Network, a Distributed Storage Network, a Compute Network, and Sidechains.
The Mining and Verification Networks are jointly responsible for maintaining normal blockchain operational tasks such as packaging and verifying transactions. The Distributed Storage Network, based on IPFS technology, supports large-scale data storage and provides users the ability to upload, store, and transfer multimedia content such as videos and pictures through the Matrix AI Network — the type of content that is vital to Matrix's world-class AI services.
Matrix's multichain architecture allows for different organizations to customize their operations and services while continuing to interact seamlessly with the rest of the Matrix AI Network ecosystem. Sidechains can have their own data format, consensus mechanism, and validation protocols while still interacting with and sending transactions to other chains through secured gateways.
With the launch of the Matrix AI Network mainnet, the public can start mining and commence verification activities in as soon as four to six weeks. Matrix AI Network believes that its cutting-edge technology will spur rapid adoption of the Matrix AI Network platform by companies, developers, and partners.
2.SoftBank and TBCASoft Launch Blockchain Based Identification Solution.
SoftBank, a Japanese telecom company along with TBCASoft, a U.S.-based company which develop innovative blockchain technology specifically for telecommunication  has been exploring blockchain tech as a way to improve Identification & Authentication services.
Both companies has taken together the the initiative and has created a working group within an existing blockchain consortium of telecom carriers, the Carrier Blockchain Study Group (CBSG).
Whats Profit of All this?
"Via CCIS, businesses and individuals can share and verify encrypted digital identities without disclosing confidential or private information."
Most current identification systems rely on a centralized database and Users of those services need to trust one centralized authority to provide accurate identification and authentication processes.
As a result, individuals disclose personal information to the system providers on numerous internet databases.  Compared to centralized services, CCIS provides a blockchain-based solution operated by independent CBSG carrier members under a CCIS Cross-Carrier Consensus with carrier-grade reliability. CCIS uses Zero Knowledge Proof cryptography and Distributed Ledger Technology (DLT) that enables issuing, storing and authenticating a user's identification without having to reveal private detailed information that the user may not want or need to share.
CCIS gives individuals freedom from creating multiple accounts and remembering countless passwords to protect their personal information from identity thefts by using TBCASoft's Cross-Carrier Blockchain Technology and telecom carriers' highly protected data centers.