Cryptocurrency market was seeing cold response from buyers for quite a long time, almost 14 months. However last some hours proved to be contrary to this, with buyers rushing in to grab cryptocurrency and adding $30 billion to crypto marketcap in just some hours. crypto marketcap is sitting now at $174.4 Billion a little shy of $175 Billion mark. That's approx 20.83% rise from its $144 Billion marketcap yesterday.
Price jump started after BTC surged to $5,000 mark. News portals are publishing that trading AI-bots managed to pool up heavy orders of 20,000 BTC across three different exchanges Coinbase, Kraken and Bitstamp , which caused the price to spike up within a matter of minutes. While it could be AI bots or some institutional investor who wants to jump in the crypto gold rush at an early stage or might be whales who are in mood to return from Antartica's deep seas.
Crypto Jump was caused by BTC
Bitcoin which was trading in $4000-$4200 range from days was at $4220 levels when price start surging up and it took roughly one hour for it to touch $5000 mark. seeing the surge in Bitcoin other cryptocurrencies soon followed the course and crypto investors are still investing in assets due to fear of losing out. Market psychology at play.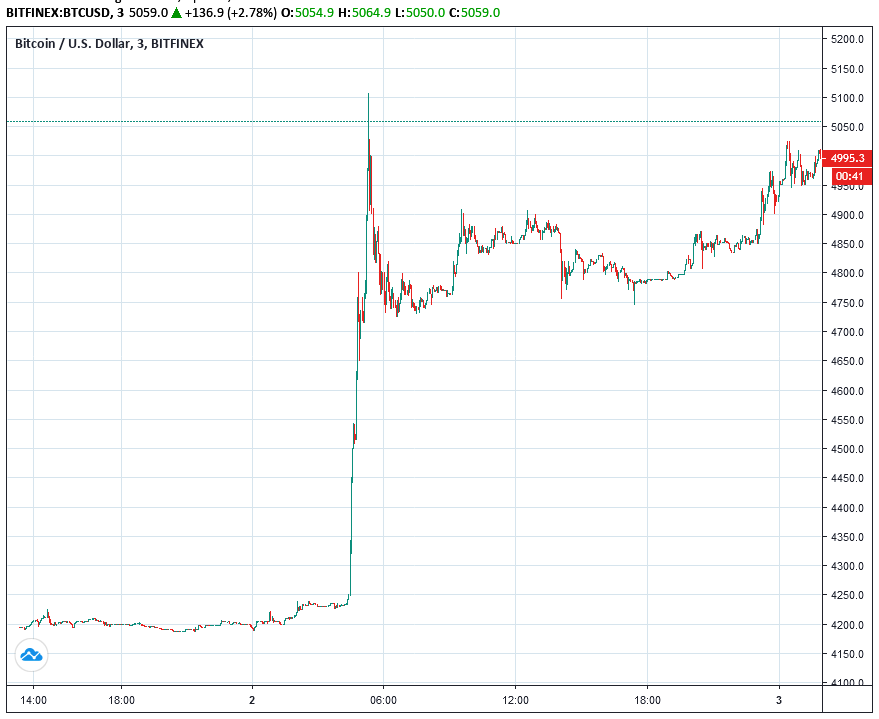 Price Jump
Bitcoin cash ABC saw an upsurge of highest 62% and now is at $270, followed by Litecoin's 35.4%, litecoin with this surge managed to topple EOS of its 4th place by market cap and is now sitting at 4th place with price of $82.5 and $5.05 billion market cap.  BCH ABC's sibling Bitcoincash SV managed to get third place with 34% price surge trading currently at $90. EOS($5.4) also managed to get a pretty high 28.5% jump but a little short of Cardano's($0.98) 29.5%. While top 3 crypto remained within 20% range. BTC($4981) at 19.2%, ETH($170) at 19.37% and Xrp($0.365) at 15.6%.
BTC Analysis
BTC is currently facing heavy resistance at $5,000 psychological level. it is still trying to break the $5,000 barrier. If Bitcoin manages to break $5,000 and stay above it for today, Analysis suggests a short term bullish drive with $8,000 range coming into play upside, while for a little rebound expected levels are downside support at $4,500 and $4,200.  But if the price goes down below $4,500 level, it will nullify this surge as a bullish trend and will be termed as just a spike.