1.Digitex Futures Becomes First Centralized Exchange To Integrate Chainlink's Decentralized Price Oracles
              2.Vodafone to Connect 'Billions' of IoT and Blockchain Tech to Renewable and Distributed Energy Assets
1.Digitex Futures Becomes First Centralized Exchange To Integrate Chainlink's Decentralized Price Oracles
Digitex Futures "The DGTX token powered, zero-fee cryptocurrency futures trading platform" has announced a partnership with Chainlink to integrate  Price Reference Contracts as an anchor to backup the current value feeds on its exchange. The announcement is published via official  digitext futures press release.
This denotes the first time a centralized cryptocurrency futures exchange is depending on decentralized oracles to improve its platform security.
Chainlink is known for offering dependable real-world input data for different smart contract solutions, and for this situation, the organization's decentralized oracle will help Digitex Futures maintain the accuracy and integrity of price data on the trading platform.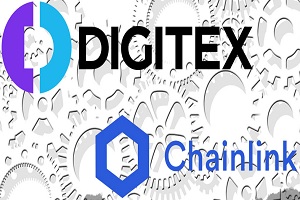 With the integration, Digitex claims that it is the first centralized cryptocurrency futures exchange to execute decentralized oracles. The integration is used as an anchor to identify inner deviations by a defined percentage.
Open finance platforms are the primary clients for the decentralized oracle system using Chainlink to match prices, recently SmartPy, a blockchain firm, announced the integration of the platform on Tezos. The sealed  and dependable Chainlink price oracles will offer a back up to the Digitex crypto list in case the prices are excessively unpredictable from the average global price.
Adam Todd, Founder and CEO of Digitex Said:-
---
"Chainlink provides Digitex with highly reliable and transparent price feeds that protect our users against the negative outcomes of abnormal market conditions or internal complications. Using Chainlink price data enables us to deliver stronger security and performance guarantees to our users, furthering our vision to revolutionize futures trading."
---
The partnership is all part of Digitex Futures' mission to "build a highly secure platform" that's protective of user funds.
About Chainlink
Chainlink is a decentralized oracle network that empowers smart contracts to safely access off-chain data feeds, web APIs, and traditional bank payments. It is well known for providing highly secure and reliable oracles to large enterprises (Google, Oracle, and SWIFT) and driving brilliant  smart contract development groups such as Polkadot/Substrate, Synthetix, Loopring, Aave, OpenLaw, Conflux, and many others.
2.Vodafone to Connect 'Billions' of IoT and Blockchain Tech to Renewable and Distributed Energy Assets

Vodafone Business has partnered with blockchain consortium Energy Web Foundation to upgrade the integration of renewables and distributed energy resources (DERs) with the grid. The partnership is  published via  Energy Web official medium blog post .
For sustainable energy generation, energy resources  including solar panels, wind turbines and batteries need to communicate with the grid and require a protected identity to do as such. Thus the partnership plans to send SIM-centric blockchain technology (SCB) with IoT network from Vodafone Business.
The procedure is very fundamentally the same as  how mobile phones have unique identities so that each energy asset can be identified. That way, the grid can communicate when the asset should release energy to the grid or tell it to switch off or store it.
Walter Kok, CEO of Energy Web said
---
"We are seeing the convergence of multiple sectors in making the energy transition happen — the energy sector, of course, but also automotive, telecoms, and even finance. From our perspective, the energy sector can only evolve so fast and so far without taking into account IoT connectivity,".
"Bringing together EW's expertise in energy and decentralization with Vodafone Business's leadership in IoT creates a really powerful combination."
---
Vodafone Business has in excess of 100 million IoT connections worldwide and also has an IoT cross selling deal with China Mobile.
About Energy Web
Energy Web is a worldwide, member-driven nonprofit quickening a low-carbon, customer-centric electricity system by releasing the capability of blockchain and decentralized technologies.In mid-2019, EW launched the Energy Web Chain, the world's first enterprise-grade, open-source blockchain platform tailored to the sector's regulatory, operational, and market needs.Energy Web has become the industry's leading energy blockchain partner and most-respected voice of authority on energy blockchain.