1. Bitstamp obtains BitLicense from New York State DFS
       2. Bank Frick and Bitcoin Suisse present innovative product: BTC-ETH Tracker
1.Bitstamp obtains BitLicense from New York State DFS
Luxembourg-based crypto exchange Bitstamp announced on Tuesday that it has gained a much hyped BitLicense from the New York State Department of Financial Services. The news was published on Bitstamp  . This will allow Bitstamp to continue providing crypto trading services in the US and paves the way for more expansion of presence in the States.
Bitstamp is one of nineteen companies to receive the BitLicense till date, including cryptocurrency exchange Coinbase.
Bitstamp also tweeted of the same.
LICENSED: Excited to announce that we've obtained a BitLicense! Paving the way to continue ramping up our presence in the States. Read more: https://t.co/O4OTTifl5X pic.twitter.com/HWos4KqCs1

— Bitstamp (@Bitstamp) April 9, 2019
"BitLicense is a key component in strengthening presence in the United States, especially when it comes to working with institutional investors."
Issual of BitLicense also comes with catch, Authorities expects licensee to meet several stringent requirements when it comes to consumer protection, which is a challenge Bitstamp gonna face now. But the better thing will be that trading at Bitstamp is expected to be of the same high standards followed by traditional financial institutions.
About Bitstamp-
Bitstamp is a bitcoin exchange based in Luxembourg. It allows  trading  between USD  currency and cryptocurrency. It allows USD, EUR, bitcoin, litecoin, ethereum, ripple or bitcoin cash trading.
The company was established as a European-focused alternative to then-dominant bitcoin exchange Mt. Gox. While the company trades in US dollars, it accepts fiat money deposits for free only via the European Union's SEPA (Single Euro Payments Area, a mechanism for transferring money between European bank accounts). Deposits via credit cards or wire incur a fee.
About BitLicense-
A BitLicense is the common term used for a business license of virtual currency activities, issued by the New York State Department of Financial Services (NYSDFS) under regulations designed for companies.
2. Bank Frick and Bitcoin Suisse present innovative product: BTC-ETH Tracker

Bank Frick a blockchain friendly Liechtenstein based Bank has issued an active Bitcoin (BTC) and Ethereum (ETH)-based tracker in partnership with blockchain technology firm Bitcoin Suisse. The company  announced on yesterday.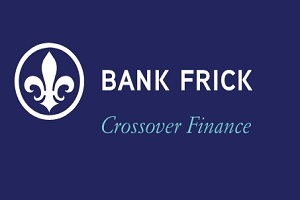 Bank Frick's official statement – Bank Frick is providing qualified and institutional investors access to an active BTC-ETH tracker, which has been created with the help of the technical expertise of Bitcoin Suisse. What sets this product apart is its future-oriented design – the certificate is issued both as a classic security and as a token. Professional investors are provided with a simple opportunity to partake in cryptocurrencies – the endorsement is accessible via ISIN and ERC20 token.
Active management
The active BTC-ETH tracker is supposed to be managed actively. The investment objective of the active BTC-ETH tracker is to participate in the performance of the underlying assets across its two-year term.
Security and expertise
As backer, Bank Frick is in charge of the issuing of the crypto certificate, which is aimed exclusively at qualified investors.Bitcoin Suisse goes about  as crypto broker and is  in charge  of  the execution of the BTC and ETH transactions via the global crypto exchanges.
Stefan Lütolf, Head of Trading & Brokerage at Bitcoin Suisse, is convinced of the merits of the joint development: "With the active BTC-ETH tracker, we demonstrate our joint expertise and provide investors with a new form of capital market access."
About Bank Frick
Bank Frick is an enterprising bank which offers a range of services designed for financial intermediaries. The Bank has a wealth of expertise in the area of tailored fund solutions and specialises in cutting-edge blockchain banking services.
About Bitcoin Suisse
Bitcoin Suisse is crypto-financial services provider since 2013. The company played a crucial role in the development of the crypto valley and the overall Swiss blockchain ecosystem. The services provided to the global institutional and private client base include Brokerage and Trading, Storage Solutions, Collateralized Lending, Crypto Financial Solutions and other related services such as Staking and Baking.