1.Coinbase Now adds Cryptocurrency EOS
            2. Salesforce introduces low-code blockchain platform for CRM powered by lightning.

1.Coinbase Now adds Cryptocurrency EOS
EOS, the fifth biggest cryptocurrency by market capitalization is now available for purchase, trading, selling and custody on the popular US cryptoexchange Coinbase.com in addition to Coinbase's mobile wallets both for iOS and Android devices. The announcement was published  by Coinbase on Thursday, May 30.
The coin will be available in most countries in which the exchange works, with two exceptions of the United Kingdom and the state of New York.
The announcement also notes that "Instead, the protocol requires EOS to use resources like RAM, CPU, and network bandwidth," the post stated adding that "It also rewards the entities that run the network periodically with new EOS, effectively substituting inflation for transaction fees."
EOS, which stands for "Enterprise Operating System", is a platform that enables users to develop decentralized applications on top of it. Reliably positioned as one of the top Five largest cryptocurrencies by market cap, it will be Coinbase's single largest addition since it added XRP earlier this year.
EOS is the largest cryptocurrency added to the platform after the highly profile decision to list Ripple's XRP token back in February of this year. Most critics accused Coinbase of flaunting its own asset listing policy dubbed Digital Asset Framework.
The expansion of EOS is part of the exchange's decision to listen to its customers' demands. Over the past few months since the XRP fiasco, Coinbase has added support for two new stablecoin assets, that is Circle's USD Coin (USDC) and the DAI.
2.Salesforce introduces low-code blockchain platform for CRM powered by lightning.

US-based Customer relationship management (CRM) software firm Salesforce has announced the launch of its own blockchain platform powered by lightning, which it depicts as a low-code platform for Non-Coders that will enable organisations to share verified, distributed data sets across a trusted network.
Named Salesforce Blockchain, the new blockchain channel is built on Hyperledger Sawtooth, an open source modular platform for designing, deploying, and running distributed ledgers.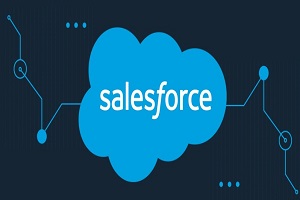 The blockchain platform is also a 'low-code' platform connected to CRM so that organizations can securely collaborate and share data across third parties. A low-code development platform is a software that provides an environment for not-so-expert programmers or Non-Coders to create application software through graphical user interfaces (drag-and-drop application) and configuration instead of traditional computer programming.
Blockchain is a distributed ledger technology that can streamline how transactions and documents are created and exchanged.
Consider these potential use cases:
Buying a house: Blockchain can help simplify the document transfers between the appraiser, inspector, real estate agents, title company, bank, county, buyer, and seller
Filing a car insurance claim: Blockchain can help the flow of communications between your insurance company, the other driver's insurance company, claim's adjuster, auto body shop, and tow shop
Transferring colleges: Blockchain can authenticate courses and transcripts from high schools, community colleges, and four-year universities making the transfer process for students and schools alike much easier
As of now accessible to select designer partners, Salesforce Blockchain is expected to become generally available in 2020 — , and it's customized for Salesforce Lightning, Salesforce's front-end framework for app development. It consists of three components: Blockchain Builder, a developer toolset for building blockchain applications; Blockchain Connect, which integrates blockchain actions with Salesforce apps; and Blockchain Engage, which enables customers to invite parties to blockchain apps created within Salesforce.