1.Swisscom Launches TV App with Blockchain-based Payment for Artists
              2.Earnest & Young Provides New Blockchain Solution for Wine Traceability
1.Swisscom Launches TV App with Blockchain-based Payment for Artists
Swisscom a primary telecommunications TVbox service provider in Switzerland has announced that dloop's NOOW app will be available on Swisscom TV, enabling users to access digital artwork from selected artists, according to a press release on the company's website.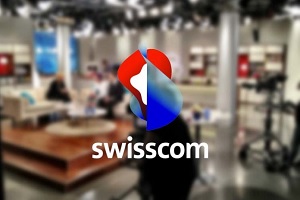 The app uses blockchain tech to secure art buyers' ownership rights, while ensuring payments for content creators. NOOW will initially include 100 works by 30 international artists. Swisscom TV offers its customers more options of entertainment – now including digital art for the living room. The NOOW app enables viewers to select the pieces and purchase a certified copy.
 Dloop CEO Tom Rieder says,  " Swisscom TV is one of the first providers worldwide to offer art on the television screen. We are pleased that we were able to win Swisscom for this courageous project,"NOOW makes digital art a collector's item and thus creates value." Since digitalization, digital art has been copied without any loss of quality. There was no such thing as unique esteem   anymore.
A spin-off
Behind NOOW stands the dloop AG. The start-up was made as a spin-off from the Swisscom internal innovation program "Kickbox", in which workers can contribute their own business ideas. NOOW uses the ERC 721 Smart Contracts based on the Ethereum Blockchain technology to certify the artworks. The generated digital certificates of authenticity can be easily transferred by buyers and artists to new users.
Content curator Stefanie Marlene Wenger, who selected the initial art pieces for the Swisscom TV debut, recommended that this is only the start of an even more ambitious effort to bring art to customers' living rooms:
"This is about more than making a virtual gallery; the next step will be to include curated shows on the platform and a close collaboration with galleries."
2. Earnest & Young Provides New Blockchain Solution for Wine Traceability

Giant audit firm Ernst & Young (EY) plans to provide its exclusive blockchain solution to a major new platform,that will help shoppers all over Asia to discover the quality, provenance, and authenticity of imported European wines, The news was published by EY in an official press release .
Named as Tatto, the e-commerce platform is produced for Blockchain Wine Pte. Ltd., using Ernst & Young's OpsChain blockchain solution that was launched in fall 2018. The flagship blockchain product allows secure and private transactions over the Ethereum (ETH) public network through zero-knowledge proof (ZKP) technology.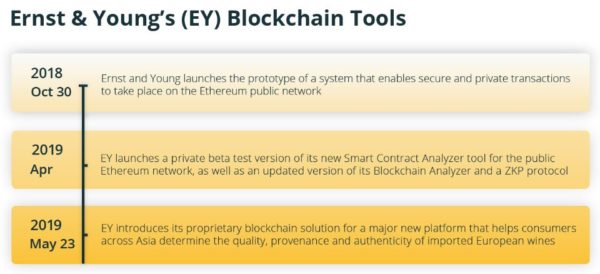 According to official statement TATTOO stands for Traceability, Authenticity, Transparency, Trade, Origin, and Opinion. Going ahead, the TATTOO Wine Platform will contain more than 5,000 marks, including wines from France, Italy, Spain, Australia, New Zealand, South Africa, South America and California.
The TATTOO Wine Platform is the first e-commerce platform in the world empowered by blockchain, and combines traceability, e-commerce and tokenization.
Tim Tse, President, The House of Roosevelt, and Chairman, Blockchain Wine Pte. Ltd., says:
"By integrating blockchain to our platform, we will establish direct connections between wine producers, the distributors, and the companies involved in logistics, such as shipping and warehousing, with the possibility of payments to be managed electronically.  As the market in China for European wine is expanding, there are many small and medium wine producers that want to reach this market, but there is no way for distributors – and their customers – to get information on product quality or authenticity. Because we are now bringing in more imported wines, and quality is extremely important to us and our customers, we wanted a way to equip our distribution network in Asia and worldwide and, ultimately, their consumers, with the information they need to help ensure the source, authenticity and availability of the product they are buying."
EY OpsChain combines blockchain-based services – developed by EY teams with contribution  from industry collaborators – with the wide scope of counseling and tax knowledge of EY teams to drive enhanced business performance and growth. TATTOO Wine is also using SAP Customer Experience solutions with fully-integrated tools and capacities.