Last some days troubled Crypto Market as bitcoin saw a major 33% correction after one and a half month of bullish run, well this was expected. But now what, everyone is seeking to find out this and so are we. we did a Technical analysis of Bitcoin Chart and like a seasoned trader intended to find out all possible outcomes from this point onward.
There is a lot of hype in the market and a lot of people commenting on Bitcoin's price, but it's better to look at what chart says as last time it crossed 20000, a lot of people were saying that bitcoin will be moon while next, it was doom. So let's look at the chart now.
Points to take into account-
Trendline A is the first trendline and strongest
Trendline B is the second trendline and is mature enough
Trendline C is the third trendline and incomplete so trust level is less
Resistance/Dampening line D is old and strong
Bearish Channel E is new but is to be considered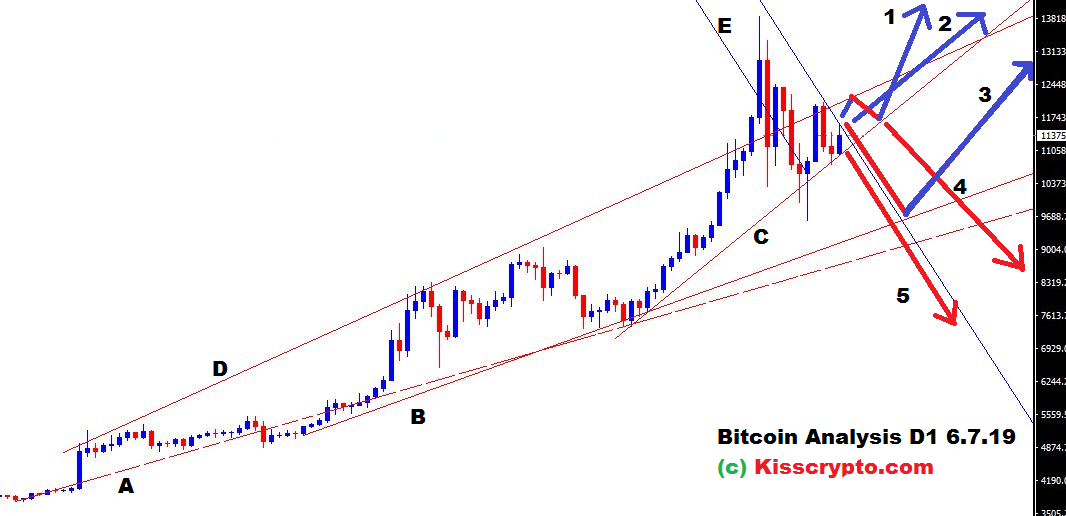 Current Trading Point is sort of Pivot point from where Bitcoin's Price can move in any direction, It can jump towards 30,000, 50,000 or even 3,000$ level. As you can see 5 major scenarios are emerging out of current price analysis.
Let's discuss every one of these-
1. Scenario 1– The pure bull run, can be the first Bull scenario to touch 30,000 Mark and if some steam is left towards 50,000 Mark. But price won't be stable afterwards and we will see another bearish year just like the previous we saw in 2018. Since Bitcoin has already seen such Bull run, chances of Scenario 1 stands High.
2. Scenario 2– A little Zigzag or more around Dampening line D and Supporting line C is expected but a steep bullish run is in play in this scenario, Expected levels which it can attain are 24,000 and 30,000. Afterwards, we can see a steep fall. A highly anticipated scenario from the current context.
3. Scenario 3– The most stable Scenario of all which can Make Bitcoin price Stay above 10,000 level even in Bearish time. Scenario 3 is highly stable and will act as a feeder phase for next bull run which will be much high, we can consider it as a feeder bull run where it will stabilize price around a level, we expect that 25,000 level is attainable via it and while prices will fall afterwards they will be stable after a 40-60% correction.
4. Scenario 4– Bitcoin is bullish now but is also developing bearish momentum and still as of now is trading below Resistance/Dampening line D. Another strike at D can make price fall from heights it currently is trading, However after sliding it can jump again from Trendline A and will convert into Scenario 3, but if that did not happen we will see Bearish time again.
5. Scenario 5– Most weak scenario of all but currently developing Bearish Channel is also putting it in play, while chances are Dim anything can happen in crypto world and if Trendline A is broken, it is most likely scenario.
Conclusion– From all scenario above, chances are high that bull run is in bitcoin's favour and while only 1 scenario suggest 50,000 level,  two scenarios suggest 30,000 level and three scenarios suggest 25,000 levels, downside levels are also in play. Majority wise situation is bullish and the optimal target is 30,000. But that is just an analysis which can be true or other scenarios might develop as price move.
Disclaimer- This is not an Investment Advice but an analysis, Before trading always do your own analysis/Take advice from your financial adviser.