1.Travala (AVA) Integrates Litecoin (LTC) Into Their Blockchain-Powered Booking Marketplace
          2.Huobi US Launches USD Trading Pairs for Bitcoin, Ethereum and Tether
1.Travala (AVA) Integrates LTC Into Their Blockchain-Powered Booking Marketplace
Travala (AVA) a fast-growing, NEO blockchain-powered booking marketplace – announced earlier today that users now have the ability to book any of its 550,000-plus listed hotels with Litecoin (LTC), the popular peer-to-peer cryptocurrency created by Charlie Lee.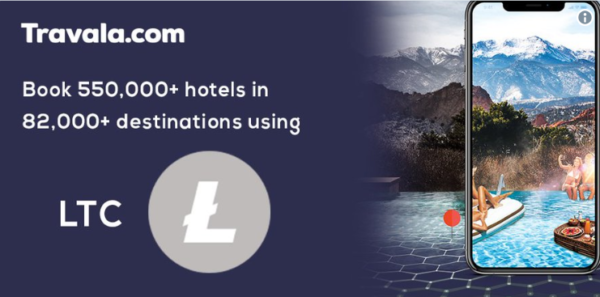 Travala's announcement – made on their official Twitter account on Tuesday evening – came just hours after Litecoin displaced Bitcoin Cash (BCH) in fifth position – in terms of market capitalization – on CoinMarketCap.
For Travala – whose team operates predominantly out of the United Kingdom, Vietnam, and Australia – news of LTC's integration marks the continuation of a recently revised strategy to offer users an increased variety of payment options with which to book a hotel with.
Travala is certainly executing on its revised strategy, with the team revealing earlier in the week that Nano (NANO) – another widely used payment-oriented cryptocurrency – had been integrated with its built-in crypto payment gateway.
With the addition of LTC and NANO in recent days, Travala now enables users to pay directly with seven cryptocurrencies – the remaining five being bitcoin (BTC), ether (ETH), BCH, Tronix (TRX) and, of course, Travala's very own NEP5-compliant AVA token.
Travala's recent emphasis on adding more payment options hasn't been limited to cryptocurrencies, however. Just last week, they introduced fiat-based payments; allowing users to pay for hotel bookings using PayPal, Visa, MasterCard, American Express, and Discovery.
The various fiat- and crypto-based payment integrations by Travala come at a time where the company – Travala Limited – is preparing to conduct a Series A fundraising round, part of which will be crowdfunded (in exchange for equity shares in the company) so as to acknowledge its budding community of supporters.
2.Huobi US Launches USD Trading Pairs for Bitcoin, Ethereum and Tether
According to the announcement, Huobi.com customers can now make USD deposits and withdrawals ($100 minimum), and trade against Bitcoin (BTC), Ethereum (ETH) and Tether (USDT). To open a USD wallet, customers must pass level 2 verification and create an account with Prime Trust.
"Our vision is to provide a comprehensive global platform that serves all the needs of digital asset traders, starting with the U.S.," said HBUS CEO Frank Fu. "We know that advanced security practices, dedication to U.S. compliance, and quality assets will be key considerations for attracting new retail and institutional customers. Today marks a major milestone for our team and our customers as fiat-to-crypto trading commences."
This news comes after reports showed that Huobi Global earned 545.2 billion won ($483.9 million) in commission income last year, surpassing both Binance ($463.9 million) and OKEx ($293.4 million).
Huobi also recently launched a new derivatives market (Huobi DM), which recently saw its trading volume surpass $20 billion after launching at the end of last year. Huobi DM currently offers long and short positions for Bitcoin, Ethereum, Litecoin and EOS .