1 Cryptocurrency exchange Okex going to add Tron Stablecoin USDT-Tron
2 Voyager Releases First Update of its app, Adds more features
1 Cryptocurrency exchange Okex going to add Tron Stablecoin USDT-Tron
In a good news for the Tron network , Tron Stablecoin (USDT-Tron) is going to be added soon on a veteran exchange , OKEx.

OKEx is the 4th largest Bitcoin exchange by balanced volume
In an Article OKEx said:
In order to meet users' demand for stablecoin trading, OKEx will support USDT-TRON, the TRC-20 based USDT token co-created by TRON and Tether, as well as the airdrop for USDT-TRON holders.
By at that point, OKEx will support three protocols of USDT, particularly USDT-Omni, USDT-ERC20, and USDT-TRON.
if you are wondering what is USDT-TRON, than USDT-TRON works on the TRON network based on the TRC-20 protocol. It has a TRON deposit address and uses the TRON network for depositing and withdrawal.
The TRC20-based USDT enables interoperability with TRON-based protocols and Decentralised Applications (DApps) whilst allowing users to transact and exchange fiat pegged currencies across the TRON Network.  USDT-TRON is a stable coin whose value is supposedly pegged to USD by 1:1 ratio.
Tron network is supposed to gain momentum and liquidity with this move. TRX has been trading in 0.02-0.025 USD range for weeks.
2. Voyager Releases First Update of its app, Adds more features
Voyager, a cryptocurrency trading solution business firm which caters to retail and institutional investors segment reported yesterday that it has published the first major update for its iOS app.
It's time, our first Voyager app update is now available, v1.1!

You can now track profits and losses with our cost basis analysis and get advanced market data at your fingertips. Read More & Update Now: https://t.co/Rry6MHubC7

— Voyager (@investvoyager) March 20, 2019
As indicated by the  announcement, version 1.1 brings various new features as below-
profit & loss tracking-
You are now able to track profits and losses of your traded portfolio positions, using the cost basis of your order. Cost basis is the original value of an asset purchased.
Portfolio Tracking-
Advanced portfolio features allow you to track your profits and losses in dollars as well as by total percent for each asset.
Advanced Market Data-
They've introduced an array of new market data features in this update. Track Market Cap, 24-hour volume, 24-hour high/ low, and 52-week high/ low of each crypto asset they support directly from the Market page.
Asset Positions-
Now, on asset detail pages, you can quickly view your position and total returns. Average Price is your average cost basis position, and Total Returns is what you've gained since your initial investment (cost basis).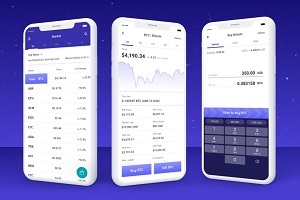 3 weeks earlier Voyager acquired Ethos.io, the blockchain startup behind ETHOS and the Universal Wallet, for $4 million. Voyager is also listed on the Toronto Venture Exchange under the symbol VYGR.V.
Voyager Operational Field to Expand too-
The Voyager App is currently available to U.S. residents of select states: Arizona, California, Kentucky, Illinois, Massachusetts, Missouri, Montana, Pennsylvania, Washington, and Wisconsin. However, they plan to go International this year.
Voyager mission is to provide every investor with a trusted and secure access point to crypto asset trading. Intends to offer best-in-class customer service, incomparable access to the most popular assets and commission-free trading.