1.Saudi British Bank Launches Ripple-Powered Instant Cross-Border Transfer Service
       2.Samsung SDS launches enterprise blockchain platform 'Nexledger Universal'
1.Saudi British Bank Launches Ripple-Powered Instant Cross-Border Transfer Service
Saudi British Bank (SABB) announced the launch of the instant cross-border transfer service using
blockchain
based payment technology controlled by,
Ripple
, at the recent Financial Sector Conference, held in Saudi Arabia on 24th & 25th April  according to a 
 news release
on April 25.
The launch of this service was announced during the first release of the conference as component of the Financial Sector Development Program. This service is part of the bank's key arrangement  towards digital transformation and enriching customer experience, said a statement.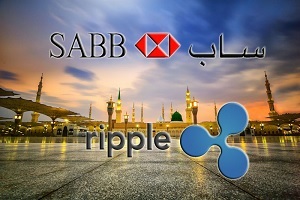 According to the news In January 2018, SABB was among the first Saudi Banks to join Ripple's network for blockchain technology under the support of the Saudi Arabian Monetary Authority (Sama),  The innovation was then successfully activated through a pilot transaction in December 2018 using Indian rupees.
Majed Najm, deputy managing director corporate and institutional banking at SABB, said: "This progression  is part of our bank's ongoing efforts to provide the best banking services to customers, make use of the latest technology and global banking products available, and create methods and means to save time and effort for our customers."
"This is additionally to keep up our driving position in accomplishing the ambitions of our bank's customers whether in the retail or corporate sector, and to support our vision to be the leading global bank in the kingdom," he said.
Najm continued: "Our bank provides its customers with quicker, more secure and more transparent cross-border payment services by the launch of 'Blockchain' technology through Ripple. The Indian Rupee (INR) is a positive start to an upcoming roadmap being the first currency to be activated in our bank."
"This plan aims to provide customers with a valuable service and link more countries and currencies in the near future," he added. – TradeArabia News Service.
2. Samsung SDS launches enterprise blockchain platform 'Nexledger Universal'
Samsung SDS, an IT auxiliary of South Korean tech giant Samsung Group, has announced the launch of Nexledger Universal, the next version of its enterprise blockchain platform Nexledger according to the news published on its  website
This intends to give quicker performance and better security works by applying "white box cryptography technology." It would enable customers to reduce the time and resources required for securing blockchain developers and verifying the technology.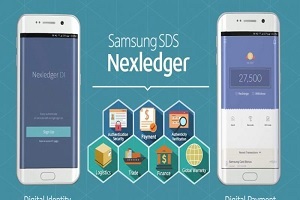 Nexledger Universal provides standard application programming interface (API) that is commonly applicable to Samsung SDS NCA (Nexledger Consensus Algorithm) and general blockchain such as Hyperledger Fabric and Ethereum.
Through this, customers can develop application services for example user authentication, payment settlement, and proof of originality using only one of three technologies and can easily apply to other technologies.
Nexledger Universal is accessible as platform as a service (PaaS) in the Microsoft's Azure marketplace, enabling customers to experience it in cloud condition without the need for discrete server and application installation.
 Jeanie Hong, senior vice president, leader of Blockchain Center of Samsung SDS said ,"We intend to expand our cloud-based blockchain platform by registering Nexledger Universal on other cloud marketplaces,"
Recently, Samsung SDS signed a business agreement with Indian IT giant Tech Mahindra to drive the global development of Nexledger.