1.Ontology to Launch Regulated USD Stablecoin Paxos Standard (PAX) on Ontology Blockchain

          2.NEO partners with Zeux to enable NEO token payment in stores.
1.Ontology to Launch Regulated USD Stablecoin Paxos Standard (PAX) on Ontology Blockchain

Endeavor blockchain platform Ontology has announced its plans to launch Paxos Standard (PAX) a regulated USD stablecoin, on the Ontology blockchain in a newspost, Ontology will work to explore application situations on Defi (Decentralized Finance, another Ontology partner project) beyond exchanges and are expected to launch the PAX token on Ontology in May.
According to press release the new version of PAX would have the similar ticker symbol and will pursue the Ontology blockchain's OEP-4 token standard. The  firm will be adding up to 100 million PAX to Ontology's network, depending on demand.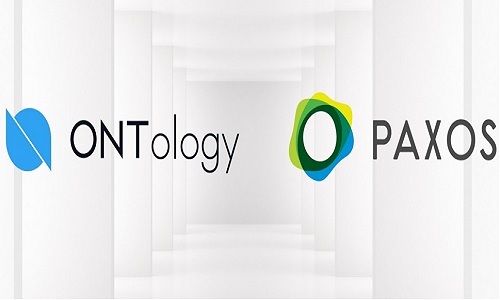 PAX was launched on September 10, 2018, with the approval of the New York State Department of Financial Services (NYDFS).It is the first regulated USD stablecoin that ensures open auditing, resource security, and is bolstered by an extensive number of exchanges, making it a stable "digital dollar" in every sense of the term, unlike Tether, which can't ensure its token is always worth $1.
Ontology's ONT is presently the 19th biggest crypto by market capitalization. The coin is trading at $1.13 and is up less than 1% at press time.
Rich Teo, Co-Founder and CEO of Asia for Paxos, said:
"We are pleased to announce that the Ontology Foundation has picked PAX as the stablecoin to launch on their chain, and we believe PAX can offer more business application scenarios for Ontology. This news indicates how PAX can keep to meet the ever-changing needs of digital asset communities and Paxos' dedication to advancing innovation in virtual currencies".
Andy Ji, Co-Founder of Ontology, said:
"The launch of PAX on the Ontology blockchain will significantly quicken real business applications on Ontology,create more success stories of traditional businesses shifting to distributed businesses, and provide enterprise partners and institutional investors with a regulated, reliable, and safe gateway to the world of digital assets".
2.NEO partners with Zeux to enable NEO token payment in stores.
Partnership between NEO  and Zeux, a London-based fintech company that enables users to convert their cryptocurrency and pay in just one click, was announced on monday. that it is now possible to spend the token via Apple and Samsung Pay using the Zeux App – a move which increases liquidity and availability of the token.
We are excited to announce our partnership with @neo_blockchain to push #massadoption of #crypto #payment! https://t.co/uQ6gqAyg60@frankjzhou @dahongfei @neoerikzhang @NEO_Foundation @NEOnewstoday #fintech #paytech #cryptocurrency #Zeux

— Zeux (@ZeuxApp) April 29, 2019
The token will be accessible on the Zeux app from May 7 and can be used at merchants across the world that support the app.
CEO and founder of Zeux, Frank Zhou, said of the development,
"We're delighted to announce that we will be add NEO to our list of cryptocurrencies. We believe that NEO is making ready for a savvy economy by giving designers the tools to deploy and scale their own smart contract applications without learning another unique language. This strategic partnership will enable us expand upon our present infrastructure and expand our service to a larger audience."
About Zeux
Zeux is a London based fintech startup that offers users an all-in-one solution for the payment and use of, and investment in, cryptocurrencies. The app is currently only available in the UK, with a release across Europe expected later this year. The app also features its very own token, the Zeux Coin Token (ZUC).
More about NEO
NEO is an open-sourced, community-driven public blockchain project. Neo utilizes the blockchain technology and digital identity to digitize assets and to automate the management of digital assets with the Neo Smart Contract, aiming at creating a "Smart Economy" on the distributed Network.