Crypto currency world is full of troubles, that's why we decided to publish about them under our premier Article line "Troubles of Crypto" so that our users may be aware of these and are able to survive in the crypto world in a better way. In this fourth multi-parted instalment we are gonna know about next trouble, which is-
Crypto currency exchanges
Almost everyone knows about them. cryptocurrency exchanges are currency exchanges which deal specifically in cryptocurrency/tokens and allow users to trade them on their platform. Crypto exchanges provide a platform for users to access crypto coins and tokens. There are hundreds of crypto exchanges numbering anywhere between 200-300. Some crypto exchanges are of Global level while others serve local clients only.
Examples of the same are Binance, Bittrex, Huobi etc.
Crypto exchanges can be divided in below two class on their trading types-
1. Fiat-Crypto exchange – These crypto exchanges allow you to invest/deposit fiat(traditional govt issued) currency. They need to be more compliant to local laws to have fiat payment on their exchange.
2. No-fiat, Crypto-crypto exchange or Stablecoin-crypto exchange- These are exchanges who don't deal with Fiat in any way and users can trade only if they have cryptocurrency or stable coins. They are little to non-regulated entities. It is very much possible that a lot of them are being run by a single person from a dingy room and one server somewhere you don't know.
Crypto exchanges and their shady activities-
Crypto currency exchanges are the link between cryptocurrency and users. They are like those things which are must in this currency world. Many Crypto exchanges are also involved in a lot of corrupt practices and shady activities, it usually is like reporting too much trading volume than what is traded in real, exceptional high withdrawal fees, listing fees and delisting activities along with other administrative activities like suspending user accounts, laxly handling user funds and platform security.
Crypto exchanges are so much needed in this segment that when any crypto exchange is hacked/Goes down it affects whole crypto world.
Let's get forward to knowing about exchanges shady activities in details-
1. Wrong reporting of Volume
Crypto exchanges are much thoughtful of volume trading on their platform and usually hyperinflate the trading volume of their platform. A Crypto analytical firm The Tie reported about how much-inflated figure actually is, some exchanges reporting up to 100X+ times more than their real trading volume. High trading volume means getting ranked higher than other peers, being known more and having a better hand to deal with things. Most of Crypto exchanges were found to report hyperinflated figures than actual ones and some of these are known ones. See the report about the same by The tie.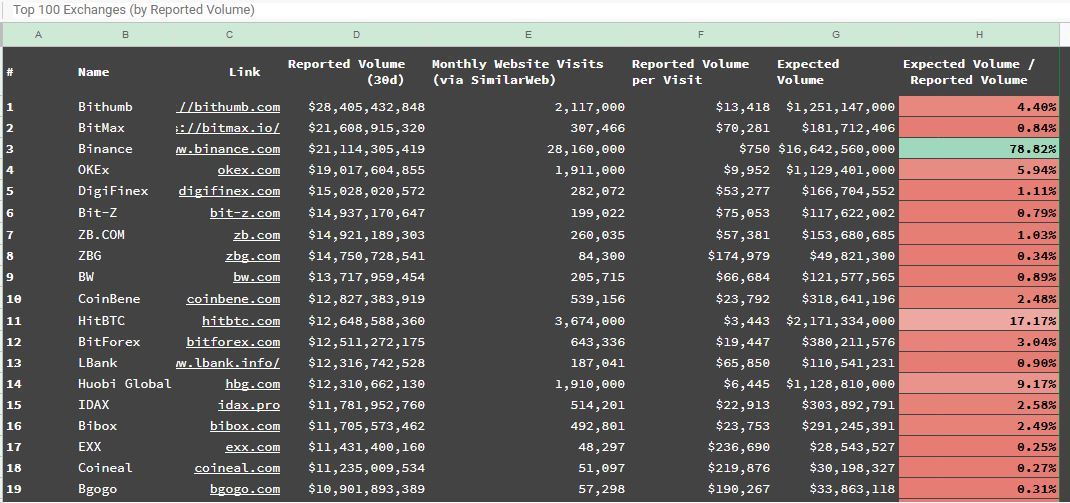 It is highly evident from the above data that out of the top 19 exchanges shown above many are reporting their trade volumes extra crunchy than what they actually are. While a little relief here is that Binance was found to be really close to their volume claimed. This data was published here. Out of the top 100 results, the final result was summed up as below.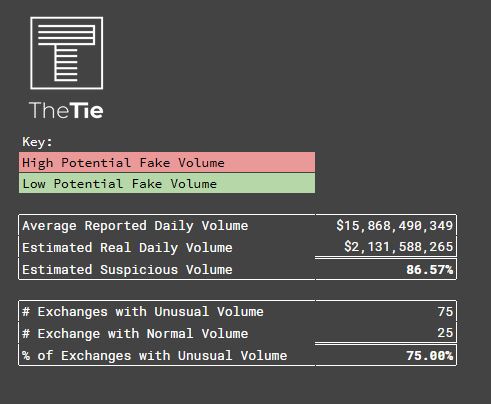 From the list of 100 exchanges, 75% were involved in wrong reporting, which is quite a high percentage than true ones being 25% only.
Also, suspicious volumes amounted to 86.57% of total volume, which again is quite a big number. This report leads to thinking that those exchanges which are manipulating numbers, what else wrongdoing by them are still unknown. Well, we are going to take a look in this series on that. So Stay on with us for the next part of the article.