1. Coinbase Looks to Add Support for new digital assets.
              2.IOTA launches decentralized industry marketplace.
1. Coinbase Looks to Add Support for new digital assets.
San Francisco-based crypto exchange and wallet firm Coinbase is looking at 17 new tokens for potential posting on its platform. The announcement is published via an official blog post on Sept 20, 2019.
According to its blog post, the following assets are as of now under review for potential listing:-
Avalanche, Celo, Chia, Coda, Dfinity, Filecoin, Handshake, Kadena, Mobilecoin, NEAR, Nervous, Oasis,
Orchid, Polkadot, Solana, Spacemesh, and Telegram.
Coinbase continues to explore support for new digital assets: https://t.co/LdyayXWN5k

— Coinbase (@coinbase) September 19, 2019
According to its Announcement "Our decision to help any asset requires significant technical and compliance review and may be subject to regulatory approval in some jurisdictions, "We, therefore, cannot guarantee whether or when any above-listed asset will be listed on a Coinbase product in any jurisdiction. As per our listing process, we will add new assets on a jurisdiction-by-jurisdiction basis, subject to applicable review and authorizations. The omission of assets from this publication does not disqualify any such asset from active review and potential listing."
 Most of the assets on the list are not trading yet, suggesting Coinbase might attempt to separate itself with prior listings.
Coinbase has additionally launched support for Dash (DASH), an open-source cryptocurrency with a strong focus on the payments industry. The new coin is presently available for retail investors through the company's Android and iOS apps. Coinbase customers would now be able to buy, sell, convert, send, receive, or store DASH. DASH will be accessible for customers in all Coinbase-upheld regions, except for New York State and the United Kingdom.
2.IOTA launches decentralized industry marketplace
Iota Foundation Non-profit blockchain association conveying the world's first versatile, feeless and decentralized distributed ledger technology, has announced the launch of its decentralized marketplace  for automated trading of goods and services. The announcement is published via official Medium post on September 19, 2019.
The platform is computerization and machine to machine communication, connecting in with the Foundation's Internet of Things (IoT) centre. Rather than trusting a central authority, the marketplace provides trust in the cryptographic algorithm. This makes ready for automatic trading between devices with digital contracts.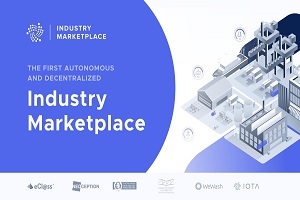 According to its blog post "The next generation of industrial automation, Industry 4.0 (I4.0), is rapidly approaching.devices will contain not only asset information, but proactive decision and optimization algorithms to enable goal-oriented behaviours. I4.0 devices can be viewed as autonomous independent economic agents that cooperate according to market economy principles."
The Industry Marketplace will serve as a vendor and industry-neutral platform, automating the trade of physical and digital goods and services.the Industry Marketplace combines:
Distributed ledger technology(DLT)
Immutable audit logs and eCl@ss standards
Machine-readable contracts and an integrated decentralized identity system
Industry Marketplace Key Features:
Vendor and industry-neutral
Standardized communication for contracts, product data, purchasing, bids, orders and services
Implementation of the I4.0 principles for driving forward digitalization and manufacturing
Semantic language, based on open specifications, developed by Plattform Industrie 4.0 and academic institutions
A secure, decentralized and globally accessible protocol
Low system requirements
Open-source software
Integrated, decentralized identity
Integrated payments for goods and services, without transaction fees
Payment queues for high-frequency environments, e.g. buying many individual data sets
Immutable audit logs (including for payments), compliant with regulatory requirements
Thorsten Kroke, Head of Digital Processes & Standards, eCl@ss. said "The industry marketplace is designed to solve the current issues around creating a common standard language for autonomous machine to machine communication,"
The Industry Marketplace has been created as an open-source activity and is free to join. Open advancement with other industry partners to explore new business models and the many possibilities of industrial automation is supported.