1.CoinDeal enters the USA with 13 active markets and its own CDL Token
           2.Changelly and Bitcoin.com Exchange in Partnership to Facilitate Seamless Crypto Swaps
1.CoinDeal enters the USA with 13 active markets and its own CDL Token
CoinDeal, a Maltese cryptocurrency exchange, started operations in 13 states in the US market. The company is already enlisted with FINCEN in the United States.  For start, CoinDeal opens trading in 13 States: Idaho, Illinois, Indiana, Kansas, Montana, New Hampshire, New Jersey, Pennsylvania, Tennessee, Texas, Virginia, Wisconsin, Wyoming, and they plan another 12 in the future. The announcement is published  via official site .
The users will get access to 13 active markets: 
ETH/BTC, LTC/BTC, XRP/BTC, EOS/BTC, BCH/BTC, DOGE/XRP, BCHSV/BTC, XMR/BTC, USDT/BTC [not available in Texas], TUSD/BTC [not available in Texas], ZEC/BTC. CDL/BTC. Soon, the platform has a plan to open CDL/EUR and CDL/USDT [not available in Texas].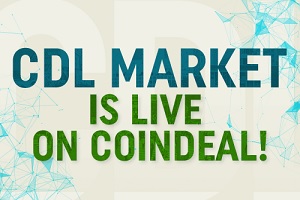 Coin deal has created its own CoinDeal Token (CDL). The CDL is based on the ETH blockchain, which will empower a quick  trading process and will enable users to have many advantages while using the platform. The current market price of the token is around $30,79 for 514 tokens. The company distributed 90% of the token to 87,549 investors, with each receiving 514 tokens.
With CoinDeal Tokens you will be able to get many features:
decreased trading fees,
customer Support Priority,
staking tokens will decrease trading fees further;
advanced trading features,
social trading platform access;
access to voting for new cryptocurrencies.
CoinDeal has also launched the OTC (Over-the-Counter) trading process . It's one of the best options or advanced users.
CoinDeal's mobile app is currently available on iOS and Android. The scope of benefits includes enabling users to trade on active markets, view 24-hour changes in currency charts and preview all transactions.
2.Changelly and Bitcoin.com Exchange in Partnership to Facilitate Seamless Crypto Swaps
Instant cryptocurrency exchange platform Changelly and Bitcoin.com Exchange are in a new strategic partnership to encourage consistent crypto swaps. The partnership will enable users all over the world to easily access the market rates through Bitcoin.com Exchange. The partnership is announced via official  blog post  on November 14, 2019.
Changelly will serve as an intermediary between Bitcoin.com Exchange and its users. Through the Changelly API, Bitcoin.com users will get the market rates in a timely manner to enable them to buy the digital assets at the best rates available.Users will be able to buy  via Changelly. In addition to enjoying better prices, the partnership will support the extent of all SLP tokens, which are accessible on the Bitcoin.com Exchange.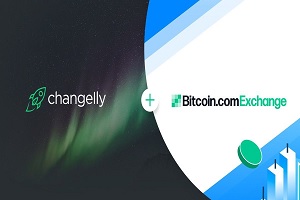 David Shin, Head of Exchange.Bitcoin.com said, "We are excited to partner with Changelly to make crypto more accessible. Changelly will make it even easier for novice traders to get all set up to buy their first cryptocurrency and for more advanced users, the integration will make it possible to instantaneously swap between different cryptocurrencies at the best market rate. Furthermore, Changelly will help us increase reach for all SLP tokens that are exclusively listed on our exchange."
Eric Benz, CEO at Changelly said, "I am pleased to announce our newest partnership with exchange.bitcoin.com. The bitcoin.com community is one I have always been a very big fan of, and now our customers will have much better access to bitcoin cash and SLP projects with the launch of their new exchange. Providing the community with the most efficient means to purchase and swap crypto is our goal and mission above all else, and with exchange.bitcoin.com we are continuing to fulfil our mission by making our services easier for our user-base, and effectively more wide-reaching."
About Changelly
 Changelly has been offering instant crypto exchange services and access to over 150 digital currencies on the market.The company's mission is to make the trade process effortless for everyone who wants to invest in cryptocurrency. the platform offers its official mobile app, which now features fixed-rate exchanges.
About Bitcoin.com Exchange
Bitcoin.com Exchange was established in early September 2019 as an easy-to-use trading platform that provides users with an excellent security and a robust trading engine.