1.Bitfinex Enables Support for Bitcoin Lightning  Network
         2.Binance Acquires Leading Decentralized Application Platform DappReview
1.Bitfinex Enables Support for Bitcoin Lightning Network
Bitfinex, a Hong Kong-based cryptocurrency exchange, announced support for lightning network deposits and withdrawals making it into the first such major exchange in the industry. Jameson Lopp took to Twitter to declare the implementation of the Lightning Network on Bitfinex.
Kudos @bitfinex & @paoloardoino on becoming the first major exchange to implement Lightning Network deposits and withdrawals!

— Jameson Lopp (@lopp) December 2, 2019
Paolo Ardoino, the CTO of Bitfinex, as well as the CTO to Tether, was tagged in the post, as he replied that he was trusting that new users would be opening channels, promising a live linking page tomorrow.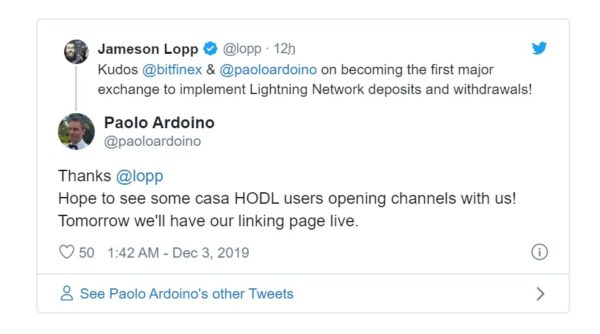 Bitfinex is first major exchanges to offer Lightning Network support. With the new feature, Bitfinex users can withdraw and deposit bitcoins on the exchange quickly over the Lightning Network, a second layer on the bitcoin blockchain to scale the network.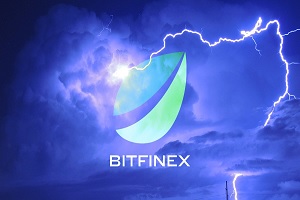 As per Ardonio, the exchange sees promises in the Lightning Network and hopes to bring the protocol to the masses.
The Lightning Network is a second layer solution to Bitcoin's scalability problem. It was made by Lightning Labs, a San Francisco-based company building the next generation of decentralized financial infrastructure.
About Bitfinex
Bitfinex is a full-featured spot trading platform for major digital assets & cryptocurrencies, including Bitcoin, Ethereum, EOS, Litecoin, Ripple, NEO, Monero and many more. Bitfinex offers leveraged margin trading through a peer-to-peer funding market, enabling users to securely trade with up to 3.3x leverage.
2.Binance Acquires Leading Decentralized Application Platform DappReview

Global blockchain giant Binance  announced its acquisition of DappReview, the world's leading information and analytics platform for blockchain-based decentralized applications (dapps),which tracks nearly 3900 decentralized applications (dapps) built on over 13 public blockchains, including Ethereum and Tron. The announcement is published via official blog post on December 03,2019.
DappReview has become a gateway for dapps exploration and guidance, attracting more than 300,000 monthly active users across 120 countries. DappReview also serves as a platform for blockchain developers to introduce their dapps to global users.
Vincent Niu,Founder and CEO of DappReview said, "The mission of DappReview is to build a vibrant dapps ecosystem and boost mass adoption of blockchain. Apart from dapps analytics services, we also provide full packages of support for dapps developers from fund-raising, product development to marketing and promotion,"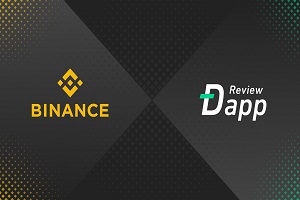 Trust Wallet will coordinate the DAppReview APIs to give simple access to insights regarding DeFi services, analytics, and usage. The symbiotic relationship will come full circle as Binance will purportedly offer marketing and business improvement support to DAppReview in return, keeping up its freedom as far as  technical development and operations.
After the acquisition, DappReview will keep up its independence in technical development and operation, and Binance will offer help in non-technical fields including marketing and business improvement. DappReview will release a new suite of products in Q1 of 2020.
DappReview is building the bridge between protocols with developers and users. Next step, DappReview will extend its footprint on the worldwide market, on which Binance will give all required support in terms of marketing and branding.