1.CFTC Approves Bitnomial to Offer Futures Contracts Settled in Real Bitcoin
                 2.Binance Adds 1:1 Ontology-Pegged Asset to Binance Chain For DEX Trading
1.CFTC Approves Bitnomial to Offer Futures Contracts Settled in Real Bitcoin
The U.S. Commodity Futures Trading Commission (CFTC) has affirmed a new bitcoin derivatives trading platform.Chicago-based Bitnomial  got the nod from the US Commodity Futures Trading Commission to launch a Bitcoin futures and options exchange and to operate as a designated contract market, effective immediately.The Approval is published via CFTC official press release on April 20, 2020.
The approval allows Bitnomial to handle and create products in financial markets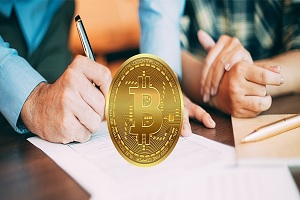 Bitnomial Founder and CEO, Luke Hoersten said:-
---
"We are building the Bitcoin Product Complex, a suite of interrelated financial products, starting with quarterly Bitcoin futures, micro futures, and options. Additionally, products initially trade on 37% margin and are settled on-chain instead of book entry,"
---
Bitnomial is currently setting up user acceptance testing, expected to start on April 27, and has opened user signups.
All things considered, Bitnomial will be one of the providers to offer bitcoin futures and options products, following the lead of CME, Cboe, Bakkt, ErisX, and LedgerX.
Peter Johnson, who leads crypto investing for Jump Capital, said:-
---
We're eager to be partners with a company that is committed to meeting the highest regulatory standards and increasing the accessibility of crypto derivatives to US traders."
---
The Bitnomial group is extremely grateful for the support of investors, including Jump Capital, Coinbase Ventures, DV Chain, RRE Ventures, Digital Currency Group, ValueStream Ventures, Indicator Fund, and our individual investors.
2.Binance Adds 1:1 Ontology-Pegged Asset to Binance Chain For DEX Trading
Binance 'the worldwide blockchain company behind the world's largest digital asset exchange by trading volume and users' has issued ONT-33D token that is pegged by ONT coin on a 1:1 ratio. The coin has been developed on the Ontology Blockchain not the same as the token which is facilitated on the exchange's DEX Blockchain. The Announcement is published via Binance  official blog post .
The exchange will give around 1.5 million ONT-pegged tokens to be traded at first and will keep on stamping more because of market requests.
#Binance Adds @OntologyNetwork-Pegged Asset to Binance Chain Providing an Alternative for Trading Major Cryptocurrency

ONT-33D is the #BEP2 token backed by $ONT at a 1:1 ratio. It will become available for trading on @Binance_DEX starting April 21, 2020.https://t.co/r34bnMsTP5

— Binance (@binance) April 20, 2020
Ontology includes support for all Ethereum-based tokens, in-dApp stablecoin inquiry, and numerous different functions. It will include a node staking feature soon with the purpose of coordinating it with the Binance DEX, giving better DEX services for ONT users, and making it simpler for them to have full authority over their assets while participating in ecosystem governance.
Binance DEX is the first platform that offers ONT clients access to decentralized trading services, permitting them to trade ONT while having 100% control over their assets, expanding the use cases of ONT and increasing its liquidity.
The ONT-33D token will at first be accessible on Binance or on the Trust Wallet app for iOS or Android.
About Ontology
Ontology is a high-performance open blockchain and distributed collaboration platform. Architected in Asia with worldwide groups, Ontology's unique infrastructure supports robust cross-chain collaboration, Layer 2 versatility and incorporates a suite of decentralized identity (DID) and information sharing protocols to improve the speed, security, and trust that are fundamental to enhanced global cooperation among businesses.