Here is What Was Important for crypto world this week:-
                 1.Bitcoin exchange BitMEX adds KYC for all its users
                 2.New Coinbase loans service allows users to borrow cash against bitcoin holdings
                 3.Apollo Fintech Launches  first blockchain National Payment Platform (Version 1.1)
                 4.Mitsubishi metals trading launches blockchain solution with Skuchain
                 5.Russia plans to track crypto transactions using AI-based platform
1.Bitcoin exchange BitMEX adds KYC for all its users
Crypto derivatives exchange BitMEX has announced that It will  be launching  a user verification program to create a more trusted and secure trading environment. The program will be launching on  28 August 2020 where all clients will be approached to complete ID checks within the next 6 months. The announcement is published by means of  official  Bitmex blog post  on Aug 14, 2020.
The organization also says that it will be launching a "significant Trading Tournament" for users who complete the verification process. Verified users can compete for "sizable prizes."
These new controls will empower  to create a more trusted and secure trading environment for all BitMEX clients.
In respe

ct to th

e particulars of the program, the blog post said:-
---
"The User Verification Programme will require individual clients to experience a four step process similar to ID checks on numerous other cryptocurrency exchanges. Individual clients  will be provoked to upload a photo ID and proof of address, take a selfie, as well as answer a couple of  multiple choice questions about source of funds and trading experience. It should take around five minutes to complete from start to finish. Corporate accounts will keep on to go through the current verification process, with our group prepared  to manage them through as fast and proficiently as could be expected under the circumstances."
---
The User Verification Programme will go live from 00:00 UTC on 28 August 2020. It will be obligatory for all BitMEX clients to have completed identity verification by 12 February 2021 at 00:00 UTC so as to   continue trading on  its platform.
All the same, the introduction of identity verification onto BitMEX's platform does appears  to signal that the exchange is taking steps toward being a more consistent, regulation-friendly entity.
About BitMEX
BitMEX is a P2P crypto-products trading platform that offers investors access to the worldwide financial markets using only Bitcoin. BitMEX and the mobile apps issued under BMEX are entirely possessed and worked by HDR Global Trading Limited, a Republic of Seychelles incorporated entity or its important authorised affiliates.
2.New Coinbase loans service allows users to borrow cash against bitcoin holdings
Cryptocurrency exchange Coinbase Inc.  has reported that it is entering the loan market with a possibility  for some U.S. clients to borrow cash against their bitcoin holdings. The announcement is published  via  Coinbase official blog post  on August 13, 2020.
Coinbase would offer cash loans of up to 30% of clients' bitcoin holdings or a limit of up to $20,000. With respect to interest rates, the exchange would charge a fixed yearly rate of 8%,for the most repayment period of one year.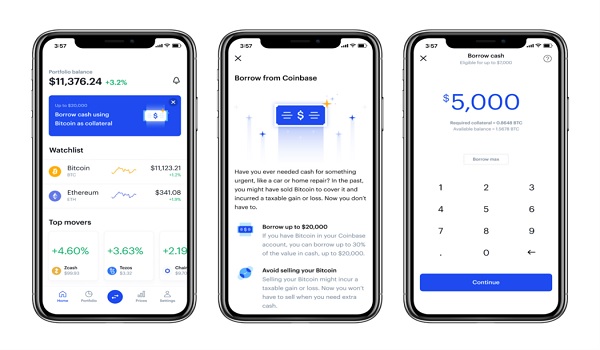 Coinbase Product Manager Thorsten Jaeckel said:-
---
"We get notification from customers that they need cash for expenses like home renovations or car repairs, however they would prefer  not  to prematurely sell their crypto or take out high-premium loans that could come with 20%+ APR," "With portfolio-backed loans on Coinbase, customers can get cash quickly from their Coinbase accounts."
---
US clients in eligible states  are currently welcome to join the waitlist for the option to borrow up to 30% of their Bitcoin holdings. Eligible clients can join the waitlist today,No need to fill out a long application or experience a credit check. Customers can just sign up with a couple of taps and get the cash in their accounts within 2–3 days.
This feature allows users to borrow cash with their Bitcoin acting as collateral for the loan.
The service is currently  supporting 17 states: Alaska, Arkansas, Connecticut, Florida, Georgia, Illinois, Massachusetts, New Hampshire, New Jersey, North Carolina, Oregon, Texas, Virginia, Nebraska, Utah, Wisconsin and Wyoming  in which Coinbase has a license to provide a lending service. The organization is seeking after licenses in other states to grow the service in the future as well as support more states.
Clients can Learn here  more about Its  eligibility, borrowing cash on Coinbase, and how it works
3.Apollo Fintech Launches  first blockchain National Payment Platform (Version 1.1)
Apollo Fintech "South African Blockchain company" has  announced the completion of its National Payment Platform (NPP), an imaginative  cashless system that empowers a central bank to issue a sovereign, digital currency (stablecoin) for national adoption. The announcement is published via Apollo Fintech  Twitter post on Aug 12, 2020.
The National Payment Platform is complete

The National Payment Platform is the first platform built for central banks to issue a national digital currency, powered by blockchain.#APL #MassAdoption #WorldShapingSolutionshttps://t.co/LHXRxnJGgK pic.twitter.com/xC5IsqrzjI

— Apollo Fintech (@ApolloCurrency) August 11, 2020
The whole platform has the capacity to control an economy, from traders to peer to peer transactions using its app, SMS, QR codes, cards, offline codes, and more. The National Payment Platform is the first platform built for central banks to issue a national digital currency, powered by blockchain.
Highlights include:
Online sign-up by vendors and residents to encourage simple availability and onboarding
Merchants can publish a product catalog to sell goods (and collect payments) directly on the platform
Merchants can use the point of sale system to sell goods and services locally
Deposit and withdrawal of assets by means of  online wallet, as well as money transfers/remittances between wallets and abroad
Add bank cards to top-up funds or withdraw money
Produce efficiencies from frictionless transactions across an economy
The future advantage of quantum-resistant encryption of information  on an immutable distributed ledger
Zero downtime of the database
Physically accessible throughout the country by government-approved agents/banks
The ability to make payments and check account data using only SMS
You can check demo by means of its Youtube video.
Stephen McCullah CEO of  Apollo Fintech Said:-
---
"We're excited to have built up the first solution that empowers a central bank to issue a blockchain-powered digital currency which can be sent and received through mobile texts," "This ability can bring enormous economic benefits to creating countries and to a  huge number of banked and unbanked consumers. Besides, by evacuating the two significant boundaries to blockchain, accessibility and usability, it can achieve two historical milestones, true mass adoption of blockchain and banking the unbanked."
---
Through NPP, Apollo Cash, Apollo Bank Network and other cashless innovations, Apollo Fintech has made one of the first comprehensive, blockchain sponsored, frictionless transaction systems that can work together with a central bank and regulated financial industry.
Apollo Fintech
Apollo Fintech is a blockchain company that creates world-shaping fintech solutions for a worldwide  economy. Apollo has offices in Africa and North America with plans to grow in Asia, Europe and Latin America. Apollo Fintech is turning into a innovator in Government blockchain solutions, as well as pioneer of international mass adoption.
The Apollo Fintech mission is to push the limits of what technology can offer. To exceed the highest industry capacities and offer a secure, quickest, and feature-rich products possible. Apollo Fintech is resolved to set the worldwide standard in financial development and professionalism.
4.Mitsubishi metals trading launches blockchain solution with Skuchain
Mitsubishi Corporation RtM Japan " the metals and mining trading auxiliary of Mitsubishi" has partnered with  Skuchain "a US-based blockchain company"  to launch the ECO platform for precious metals trading. It handles all metal resources extensively. The announcement is published through official  Skuchain press release on August  11, 2020.
The aim  of this Ecosystem is to make a shared log of transactions, initially between Mitsubishi RtM and its customers, but this will later be expanded to other suppliers. The digital solution is significant for the remote working environment triggered by the COVID-19 pandemic.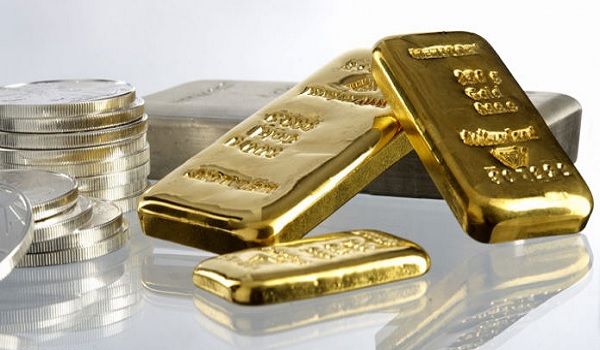 Skuchain Founder and CEO, Srinivasan Sriram Said:-
---
"ECOs speak to a significant breakthrough in using blockchain technology for high-value business-to-business transactions. Realizing such a platform required the vision, assurance, and scale of a company such as Mitsubishi RtM Japan. We trust that the EC3 platform will transform Mitsubishi RtM Japan's business and support long-haul business achievement."
---
ECO is designed to encourage the whole supply management for metal traders. some of which incorporate the verification and managing of invoices and confirmation of transactions. As ECO's functions are expanded and a lot of information is shared on the blockchain, privacy management for more sensitive information is required, yet data sharing using Skuchain's item level encryption The service allows you to exchange data while keeping  up a significant level of confidentiality.
For the beginning, Mitsubishi will just bring its "most valued clients" on the platform yet it plans to before  expand and execute ECO to cover a more extensive bit of its supply chain system.
Using the ECO platform, trading parties will be able to sign trade documents and transfer them on the blockchain. They would then be able to share  the signed documents with others in real-time and hide any commercially delicate data that they would prefer not to reveal.
it will additionally add more features to its ECO platform. More highlights will help the firm with solving complex moves identified with the supply chain of the metal trading industry .This partnership has been framed between both of them to promote digitization for various companies and government agencies.
About Mitsubishi Corporation RtM Japan
Mitsubishi Corporation RtM Japan Ltd. is a metals and mineral assets trading company that deals in a wide range of general metal resources and materials, including ferrous raw materials and non-ferrous metals. The "RtM" of the company name is an abbreviation of Resource to Market: by assuming the mission of providing metals and mineral resources to markets, Its aim to offer more added value to suppliers and clients so as to  contribute to manageable social development.
5.Russia plans to track crypto transactions using AI-based platform
Russia's Federal Financial Monitoring Service, a federal service combating money laundering and terrorist financing has announced the development of crypto tracker to combat illegal activity. The announcement is published via  Its local russian  publication of rbc.ru on August 11, 2020.
It is planning to  build a new analytics platform for tracking cryptocurrency transactions via artificial intelligence.
Russia's Federal Financial Monitoring Service will use an artificial intelligence (AI) tool  "Transparent Blockchain"  system  is   designed to undertake a deep analysis of crypto transactions of major coins like Bitcoin, Ethereum, Dash and Monero.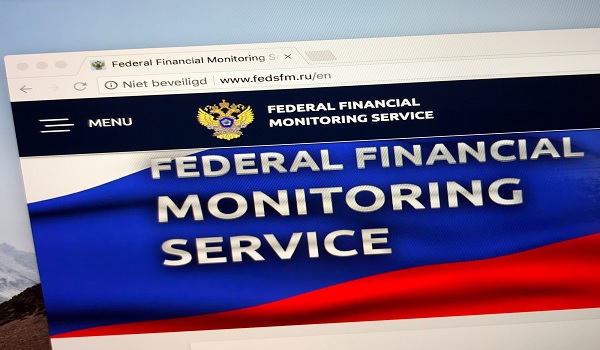 The system, in particular, will allow:
monitor and analyze the movement of digital financial assets (DFA), identify service providers;
conduct investigations related to the illegal circulation of CFA;
partially remove the anonymity of participants in transactions with cryptocurrencies in the systems Bitcoin, Ethereum, Omni, Dash and Monero (the last two systems of increased anonymity) by classifying them according to the set of the most common profiles of crypto transactions;
Scan the Internet to detect images with fundraising details for signs of terrorist financing, as well as to detect messages related to money laundering and terrorist financing.
At present, the project is being developed using extra budgetary funds, but in the future, additional funding will be required. The "Transparent blockchain" will need 760 million rubles ($10 million), in total over three years, the report stated.
the new legislation allows registered parties in Russia to buy and sell tokens in January 2021, but the process is heavily regulated. Crypto exchanges will only be facilitated by authorised Russian banks under the supervision of the central bank. If an individual wants to acquire cryptos that are not supervised by the Russian government, he/she needs to get them from foreign exchanges. Additionally, investors could not use cryptos to purchase any goods and services. They must transfer the funds into fiat rubles first.
The new legislation suggests that Russia is starting to open its doors to adopt the technology that it once deemed as "criminal". Though the use of crypto is still very limited, the "Transparent Blockchain" could be the first step to ensure a secure crypto ecosystem for future developments.