1.AlphaPoint Launches Yield Platform to power Digital Currency Lending, Staking & Rewards app
                  2.Avanti Becomes the Second Crypto Bank in the US, Open for Commercial Clients in Early 2021
                  3.Coinbase Card Now Available for US Users with Lucrative Cash Back
                  4.IOTA supports  Project Funded by NEDO to Build AI and DLT-based Predictive Maintenance System
                  5.Crypto Exchange Huobi Adds Direct Visa, Mastercard Payments
1.AlphaPoint Launches Yield Platform to Power Digital Currency Lending, Staking and Rewards applications
AlphaPoint Digital asset financial software company announced the launch of the AlphaPoint Yield Platform available for use by marketplace and wallet operators using the company's technology. Exchange and brokerage operators will have the ability to manage borrowers, lenders, rates and distributions all on one simple to use platform featuring automated and manual settings and detailed reporting. End-users who leverage the new offering will have the ability to earn yield on their assets through lending and staking offerings after opting into the service. Alpha point announced on  Oct 29, 2020.
The AlphaPoint Yield Platform adds additional functionality to enable its customers to offer their own Yield products to end users. This solution can be used stand-alone or on top of the company's extensive white label products including Exchange, Brokerage, eOTC, Asset Issuance, Wallet and Liquidity offerings. Properly regulated operators can now offer these solutions with streamlined integration with CeFi and DeFi.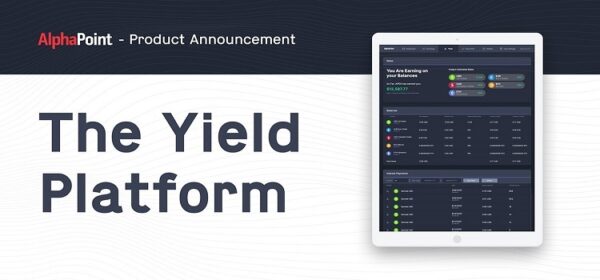 AlphaPoint Co-founder and CEO Igor Telyatnikov Said:-
---
"AlphaPoint customers have served over a million end users, enabling both retail and institutional access to digital assets globally. With this technology upgrade they can now offer attractive yield generating products to provide a fuller suite of financial services to their end users,"."Global operators can now deliver a one-stop-shop for trading, liquidity, custody, and yield in their respective markets."
---
AlphaPoint Yield Platform features include:
Customizable front-end experience for end-users
Daily, weekly, monthly and custom payout options
Manual or automatic payment distribution
Adjustable integrated operator commissions
Advanced management & reporting dashboard
Multiple AlphaPoint customers are taking steps to rollout product offerings leveraging this new technology, including Bitazza, Coinext, Cryptosx and NDAX.
In addition to lending of cryptocurrencies, staking offers investors another means to generate yield on their long-term crypto holdings. AlphaPoint customers will be able to manage staking themselves or work with partners like SMART VALOR to offer staking services and simplify the operation of staking nodes and transaction validation.
2.Avanti Becomes the Second Crypto Bank in the US, Open for Commercial Clients in Early 2021.
The Wyoming State Banking Board voted 8-0 to grant Avanti Bank & Trust a bank charter, the type of which gives Avanti the same powers as national banks in its approved business lines. Avanti's approved business plan includes several products and services, including a tokenized U.S. dollar called Avit™*; custody services for digital assets as a "qualified custodian" under the Investment Advisers Act; API-based online banking services, where customer deposits must be 100% backed by reserves; and prime services for digital assets. Avanti plans to provide commercial accounts in early 2021 and other accounts with high minimum balance requirements soon thereafter. Avanti  announced on Oct 28, 2020.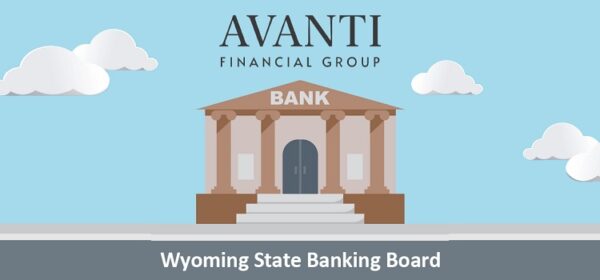 Caitlin Long, Avanti's founder and chief executive officer Said :-
---
"Avanti's mission is to provide a compliant bridge between the traditional and digital asset financial systems, with the strictest level of institutional custody standards,"  "We will provide products and services that do not exist in the market today. Currently the only type of U.S. financial institution that can provide final and simultaneous settlement of trades between digital assets and the U.S. dollar—because it is the only type currently approved to handle both within the same legal entity—is a Wyoming special purpose depository institution like Avanti. Wyoming has the only U.S. regulator with a bank supervisory and regulatory program for digital assets that is near completion."
---
Avanti's approved products include the issuance of a tokenized U.S. dollar, Avit (rhymes with "have it"). Avit is designed to solve widely-acknowledged problems with legacy payment systems faced by traders, investors and corporate treasurers. Nicknamed the "stablecoin disruptor," it is also designed to solve the legal, accounting and tax issues of stablecoins. Avanti plans to issue Avit initially on both Liquid (a sidechain of the Bitcoin blockchain, in coordination with Blockstream) and Ethereum, and will consider issuing Avit on other blockchains in the future based on customer demand and its assessment of network security.
As a bank, Avanti will fully comply with all applicable Bank Secrecy Act, anti-money laundering and OFAC-related laws, rules and regulations.
About Avanti
Avanti Financial Group, Inc. is a Wyoming bank formed to serve as a compliant bridge to the U.S. dollar payments system and a custodian of digital assets.
3.Coinbase Card Now Available for US Users with Lucrative CashBack
Coinbase Card, will be launching in the United States this winter. customers in the US can join the waitlist for Coinbase Card, a Visa debit card that allows crypto to be used for payments and purchases online and in-store as well as for ATM cash withdrawals. Coinbase Card also introduces new opportunities for customers to earn up to 4% back in crypto rewards. Coinbase announced on Oct 28, 2020.
Eligible customers can apply via the Coinbase app or on the web. The first customers will be approved this winter. Once customers are approved, they can spend with a virtual card right away and will receive a physical card in the mail within two weeks.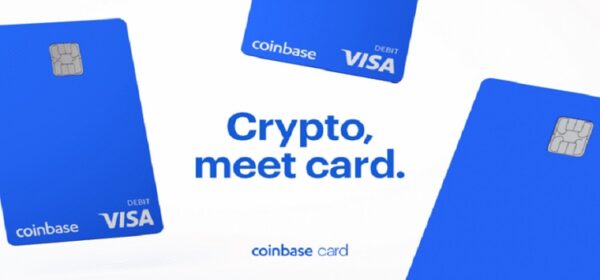 Coinbase Card is now available to customers in nearly 30 countries, including the UK and across Europe. The rewards program will initially only be available to customers in the US.
Spend crypto everywhere Visa debit cards are accepted, worldwide:
Earn up to 4% back in crypto rewards:
Seamless card management:
The Coinbase Card is issued by MetaBank®, N.A., Member FDIC, pursuant to a license from Visa U.S.A. Inc. The Coinbase Card is powered by Marqeta.Coinbase Card will be available to all eligible customers in the US, excluding Hawaii. Customers must also have a verified Coinbase account.
Crypto rewards is an optional Coinbase offer
Coinbase will automatically convert all cryptocurrency to US Dollars for use in purchases and ATM withdrawals
Standard data charges may apply
Other standard fees may apply, and will be shared during sign-up
This announcement is another step forward in the real-world applications of cryptocurrency as it enables more options for Coinbase customers in the US to utilize their holdings. It  will continue to build upon our offerings to create the most seamless and useful ways to manage crypto investing and spending for our customers.
There is no issuance fee for the card; however, cryptocurrency conversion fees may apply.
4.IOTA supports  Project Funded by Japanese company NEDO to Build AI and DLT-based Predictive Maintenance System
IOTA Foundation has partnered on a project initiated by Best Materia and IMC, Japanese maintenance-related companies, and funded by NEDO (New Energy and Industrial Technology Development Organization).  The goal of the project is to develop technology to strengthen the security, longevity, and durability of critical infrastructure assets in Japan and abroad. Iota announced on Oct 27, 2020.
By adding artificial intelligence and the IOTA Tangle technology to Risk-Based Maintenance (RBM) Systems deployed in power plants, energy plants, industrial plants, petrochemicals, and oil refining plants, the group hopes to capture a large share of the domestic social infrastructure conservation market, valued at 170 Trillion Yen (1.5 Trillion USD).
Shigemitsu Kihara, CEO, Best Materia Said:
---
"Because of the aging problem in Japan, we seriously need the AI system supporting our business in place of retired RBM consultants. We expect that IOTA tangle will enable us to securely collect and store RBM-related data including sensitive plant information which is the key to the accuracy of the AI system."
---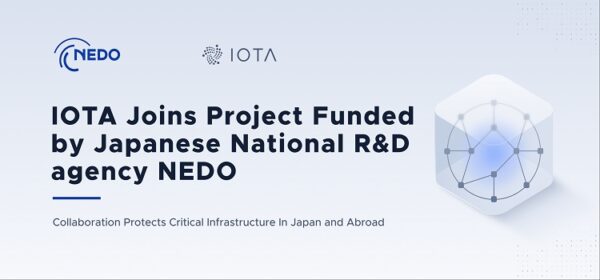 The project will develop a cloud-based SaaS software with the following capabilities:
A decentralized database using IOTA's distributed ledger technology-
Artificial intelligence system developed
Digitizing and sharing infrastructure data
Key Statistics About The Project:
For Data digitization the labor cost of skilled engineers per plant is 20–30 million yen.
Maintenance personnel cost of a distributed database and AI is 30 million yen/ year.
There are 30,000 plants that require initial input for RBM system construction in Japan.
The initial data input contract cost for one plant is 30–50 million yen..
In the future, this AI and IOTA enabled risk-based maintenance technology, that is pioneered in this project, will contribute to the creation of new industries.
About NEDO
NEDO is an Independent Administrative Agency under the jurisdiction of the Ministry of Economy, Trade and Industries, Japan. NEDO plays an important role in Japan's economic and industrialization policies through its funding of technology development activities.
5.Crypto Exchange Huobi Adds Direct Visa, Mastercard Payments
Huobi, a Seychelles-based cryptocurrency exchange, announce that it has expanded support for Visa and Mastercard credit and debit cards. Huobi users can now directly buy crypto via a credit or debit card.  Huobi announced on Oct 27, 2020.
BTC, ETH, XRP, LTC, USDT, EOS, BCH, ETC, and BSV are available for direct purchase. Currently, Its  supported fiat currencies include ALL, BGN, CHF, CZK, DKK, EUR, GBP, HRK, HUF, MDL, MKD, NOK, PLN, RON, SEK, TRY, UAH, HKD, AUD, and USD.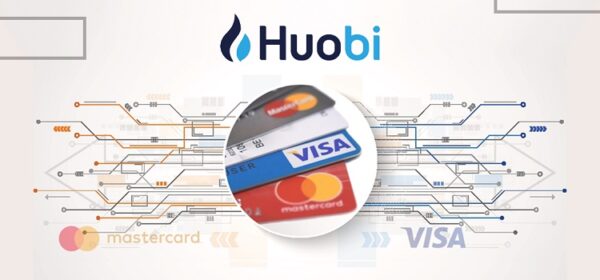 To celebrate the launch, Huobi OTC is giving away a 5,000 USDT prize pool as rewards:
Buy at least 10 Euro or equivalent value crypto with a credit/debit card, and you will additionally receive 5% cashback airdropped in your account. You will receive the reward in 1 week after completing the purchase.
Promotion Period: 10/27/2020 9:00 AM (GMT+2) to 11/10/2020 17:00 (GMT+2)
To make a purchase, please visit "Buy Crypto" and select "Card Payment".
*The 5% cashback is up to 10 USDT per user.
*The service is not available to Chinese users.
Visa cardholders in most European countries and Australia can now use the integrated payment service to buy most of the major cryptocurrencies. Mastercard cardholders in the U.K., Gibraltar, France, Poland, Czech Republic, Netherlands, and Australia are also eligible.